About LACP3 2017
The fifth Latin-American Congress of Photocatalysis, Photoelectrochemistry and Photobiology - LACP3 2017 will take place at the University of Guanajuato, Gto., Mexico from September 24 to 29, 2017.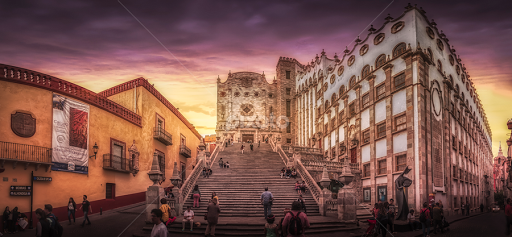 This congress constitutes a new edition of a series of meetings aimed to gather together the scientific community with research interests in photo-activated processes. (photophysics, photochemistry, homogeneous and heterogeneous photocatalysis, photoelectrochemistry and photobiology) focused on the degradation of pollutant agents, the removal of heavy metals, the photoinactivation of microorganisms, the synthesis of organic compounds, the production of hydrogen and other alternative fuels, the reduction of carbon dioxide, the artificial photosynthesis, among others, either in a fundamental or applied perspective.
The previous three congresses were held in Mexico: Morelia (2012), Guadalajara (2013). San Luis Potosí (2014), and in South America : Bucaramanga, Colombia (2016) and they accomplished the main goal of sharing experiences and perspectives of Latin American researchers as well as of worldwide scientists. This edition carried out in Guanajuato, Mexico and seeks to integrate a greater amount of scientist.
The LACP3 2017 will start on the morning of Monday, September 25th with a courses directed to the physicochemical characterization of nanomaterials, two days
The opening cocktail, will be on Sunday September 24th, and conference will initiate on the evening of Monday, September 25th and will be composed of Plenary Talks, Invited Lectures, Invited Talks, Oral Communications and Poster Presentations. Different social activities like September 27 Alleyway nigth city tour (Guanajuato capital) declared Cultural Heritage of Humanity).
On Thursday September 28th, gala dinner in Real de Minas Hotel, and the congress offers the opportunity of taking a trip to San Miguel de Allende (declared Cultural Heritage of Humanity) on Friday September 29th
The memories of the congress will have ISBN registration and selected works will be published in a special issue and indexed in Scopus, and Sustainable Environmental Research- Elsevier.
For further information please contact us via email
Esta dirección de correo electrónico está siendo protegida contra los robots de spam. Necesita tener JavaScript habilitado para poder verlo. and Esta dirección de correo electrónico está siendo protegida contra los robots de spam. Necesita tener JavaScript habilitado para poder verlo.